Midwifery Services:
We provide complete prenatal, labor and delivery, and postpartum care, including recommended labwork and referrals for ultrasounds. We also provide well newborn care through 6 weeks postpartum.
Persona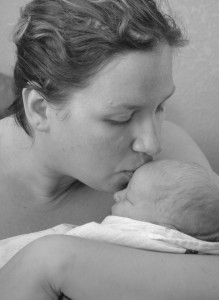 ble and comprehensive, prenatal care with your midwife is done according to the standard prenatal care schedule, with monthly appointments during your 1st and 2nd trimesters and bi-weekly appointments in the 3rd trimester until 36 weeks. After 36 weeks prenatal appointments are weekly until delivery. We aim for holistic, woman centered care, while including the whole family in the joy of welcoming a new little one!
Labor and delivery service is available at the birth center or in the comfort of your own home. Before the birth, your midwife will discuss with you your birth plan and desires for delivery. This may include music, hydrotherapy, aroma therapy, family and friends present, a doula, water birth, a family member assisting in "catching" the baby or cutting the cord. Your midwife will help guide you through labor and birth, providing monitoring and continuous hands on assistance. A complete care team, generally including a 2nd midwife, is also present for the birth and immediate postpartum.
Postpartum care for you and baby includes comprehensive care and monitoring in the immediate postpartum, including a full newborn exam. Extended postpartum care consists of an in-home follow-up for mom and baby by 2 days postpartum, a 2 week postpartum appointment, any needed weight checks for baby, and a 6 week checkup and final postpartum exam/well-woman visit. We give special attention to breastfeeding support and can refer to a lactation consultant if needed.
Scheduled appointments may be available in the comfort of your own home or at a local office location. Call to schedule a free consultation and discuss options available in your area.
Childbirth Education:
We offer full childbirth education classes for first time parents as well as custom refresher classes. Classes are customized to prepare you for birth and welcoming a newborn whether you are planning for home, birth center, or hospital. Group classes may also be available. Topics generally covered may include: Pregnancy Changes and Discomforts ⋅ Terminology ⋅ Understanding the Process of Labor and Delivery ⋅ Labor and Delivery out of Hospital ⋅ Labor and Delivery in Hospital ⋅ Common Interventions ⋅ Relaxation Techniques ⋅ the Immediate Postpartum ⋅ the First Six Weeks Postpartum ⋅ Newborn Care ⋅ Breastfeeding ⋅ Latch Techniques ⋅ Strategies for a Great Start ⋅ Discussion on Scheduling vs. Feeding on Demand ⋅ and Common Problems and Remedies.
Doula Services:
We also offer doula services for women planning a hospital delivery. Package includes a prenatal consultation visit, labor support at your home prior to arrival at the hospital, labor support at the hospital, and a postpartum visit at 2-3 days postpartum. We will generally be available to assist with initiating breast feeding immediately after delivery.